About
Introduction
Welcome to Ganesh Polyfabrics
.
We are one of the leading manufacturers and exporters of HDPE & PP woven bags and fabrics from more than 20 years. These products find usage in packaging of diverse products.
Product Portfolio
We are a leading manufacturer of PP/HDPE Woven Bags & Fabrics, which are used for packaging of products like the cement, chemicals, fertilizers, sugar, food grains etc. These bags also retain product quality & ensure enhance storage life. Our Woven bags are the traditional bags in packaging industry due to their wide variety of usage, flexibility and strength.
Advantages
Flexible and high strength

Can be printed on both sides

Water and dust proof design due to inside PE liners or laminated on the outside; hence packed materials are protected from outside humidity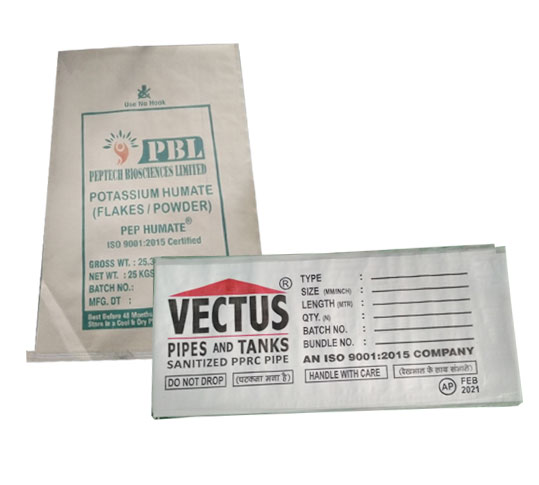 PP and HDPE Woven Bags
We have been able to achieve great success owing to the efficient efforts of our diligent team of professionals. Our team comprises engineers and well-trained technicians who work in close coordination with the clients to offer them flawless range of PP and HDPE woven bags and sacks. Our quality inspector monitors and keeps a strict vigil on every step of production.
Backed by a team of skilled professionals we are able to manufacture a quality range of products. Our team members have rich industry experience and hence they are able to provide these in customized specifications. Further, they also understand the urgent requirements of clients and work accordingly to serve them in best manner. Apart from this, they also keep themselves updated with the latest market trend and therefore we are able to keep pace with the same.
PP and HDPE Woven Bags
We have been able to build a wide client base for ourselves in the domestic as well as international market with the help of our qualitative range of packaging material such as bags, rolls, sheets and films. Some of the other factors that make us one of the favored choices of our clients include the following:
Optimum quality packaging material

Robust manufacturing unit
PP and HDPE Woven Bags
We are a part of a customer driven industry, so we lay utmost importance in delivering HDPE & PP woven bags, HMHDPE, LD / LLDPE liners & other packaging materials that are distinctive and long lasting. All our work processes are carried out in a controlled manner so as to provide high level of packaging solutions that are unmatched in quality.
To ensure better quality products, we test our packaging bags on various parameters so that it complies with the international quality standards. The equipment we use to conduct the tests provides accurate results. Some of the testers that we use are as follows:


Client Satisfaction
We are a client centric organization and we make sure that the range of bags manufactured by us is high in quality. Apart from this we also emphasize on our vendors to deliver premium quality raw material in order to yield best results. We offer customized solutions to our clients, in terms of color, shape and size. This helps us deliver what our clients require in the manner & style that suits their specification.


Packaging Application
Plastic Granules Packaging


Infrastructure
Our organization is backed by sophisticated infrastructure, which is well equipped with all the latest facilities required for offering a quality range of packaging products. We have segregated our infrastructure in to different departments like manufacturing unit, designing unit and quality control department.
Some of the machines installed at our infrastructure are as follows:
Armstrong Stitching Machines

Multicolor Printing Machine